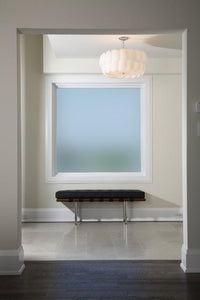 Mat Blue Frosted Privacy Window Film
Mat blue frosted window film will give you 24hr privacy from both sides of your glass, whilst still letting in a large amount of light. Frosted privacy window film is the perfect solution for both commercial and residential properties. Once applied mat blue frosted window film will provide privacy onto toilets, shower rooms, bathrooms, office windows, schools and store rooms.
Blue mat frosted window film will give a frosted etched finish on your window; you can apply the film to the whole window or with a border left around to let in a small amount of light. The frosted window film will allow a high amount of natural light to pass through the glass whilst still giving you privacy. It works for privacy and security purposes. It can be used anywhere in the home or work place, it is resistant to condensation and moisture so can be fitted in bathrooms and kitchens.
Our mat blue frosted privacy window film can be easily DIY installed, all our window films are self-adhesive so no messy glue is needed and will come with full written instructions.
Available in different widths and lengths

Still allows 70% light to come through.

Reduces glare by 55%

Reduces ultraviolet light by 99%

VLT of 40%

Perfect for 24hr privacy.
Click here to check out the rest of our mat frost collection
Click here to check out our window film fitting tools
---
We Also Recommend
---