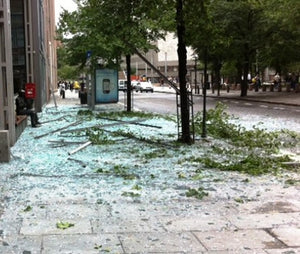 300 Micron Bomb Blast Safety Window Film
300 Micron Security Film
Bomb Blast, our Thickest Safety film, this is one seriously thick product, designed to mitigate risk from explosions and acts of terrorism. For the film to be effective in such situations it will need to be adequately anchored to the frame. Anchoring solutions are available in a variety of options, including wet sealing, Flexible edge retention systems, and Rigid edge retention. Please email us for more information.
This product is professional installer quality and fully certified and tested. It is available in 2 widths 76cm and 152cm.
Once applied, the film will upgrade existing glassing to meet British & EU standard certification:-
BS 6206 Class A and BS EN 12600 Class 1B1.
Thickness: 300 micron/12mil Tensile Strength at Break: 28,000 psi Break Strength 336 lb/inch Elongation at Break 125% Peel Strength 7 lb/inch
This film can be applied to any flat glass surface to increase the structural integrity and security of home, office and vehicle glass. Our 300-micron security film creates a 'safety net' which holds shards of glass in place upon impact. The Window Film will make it safer for occupants and reduces the risk of vandalism and burglaries. This film is an inexpensive way to upgrade any window and is used worldwide in banks and offices. The film is easy to install, and can be cut to any shape or size. It is completely transparent, so does not obstruct vision from inside or out.
Safety Window Film 300 micron is ideal for public shops, buildings, offices, supermarkets, shopping centres, cafes, restaurants, cinemas etc. This is a lifesaving product, it can protect members of the general public and staff, in a variety of settings, including, terrorism, natural disasters, examples:- hurricanes /Storms and many other forces accidental or intentional. We recommend in investing in some proffesional tools when fitting this particular product, its thickness by nature makes it a more difficult product to foit and work with.
Self Adhesive Film
Allows natural light through the film
Will be dispatched in 24hrs of purchase.
Window Film Fitting Instructions, Technical specifications and glazing suitability chart are available to download at the bottom of the page.
The video below shows Opal White Frosted Window Film been installed. The product you are purchasing will look different but is still easily installed with the same method using a few essential tools; these are also available to buy online, please see Tools. The Window Film fitting video is only a couple of minutes long and covers all the knowledge you'll need to complete your DIY Window Film installation.
---
We Also Recommend
---