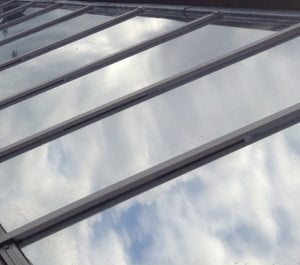 Reflective Mirror Polycarbonate Window Film
This is a silver one way mirror film for polycarbonate roofs, it can also be applied to plastic surfaces to obtain a one way mirror finish
We are a leading supplier of reflective heat reduction polycarbonate window film. A very economical alternative to blind, this special metalised film helps to massively reduce glare and heat in your conservatory/room, while still keeping the natural sunlight.
One way films works on the theory of light Mirror Silver privacy window film works by reflecting whichever side is brightest. Meaning it is fantastic for external facing glazing where the sunlight is brighter than the artificial light
This film will reduce the sun's heat and glare from entering your Polycarbonate Plastic Roof and offer significant heat reduction to allow you to use your conservatory during the hot summer months, the film will help reduce the glare entering the room allowing you to still use the room when the suns at its brightest allowing you to relax and still be able to watch T.V and use your P.C or tablet
Warranty - 5 year
Internal Application
Pressure sensitive adhesive
Full fitting instructions supplied with your order
Professional quality - as used by professional window film fitting companies
Non Fade, Easy DIY install, Self Adhesive Film, Easy to cut & trim to size
Allows natural light through the film
Window Film Fitting Instructions, Technical specifications and glazing suitability chart is available to download at the bottom of the page.
The video below shows Opal White Frosted Window Film been installed. The product you are purchasing will look different but is still easily installed with the exact same method using a few basic tools, these are also available to purchase. The Window Film fitting video is only a couple of minutes long and covers all the knowledge you'll need to complete your DIY Window Film installation.
---
We Also Recommend
---