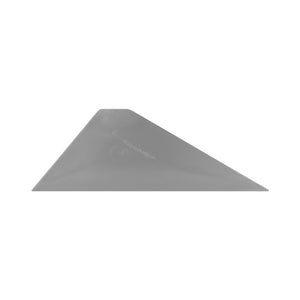 Platinum EZ Reach Ultra
If you liked the original EZ Reach, you're going to love Ultra – it's exactly the same except we've removed the hole to make it stronger and trimmed the top down to give installers yet another handy angle to work with.
With EZ Reach Ultra, there's no need for you to cut down a Teflon hard card to get the tool you want. EZ Reach Ultra fits the bill. This triangular card, with its flat edges is the companion to our Contour tools.
Designed specifically to get at the corners of quarter class windows, you'll also reach for it again and again to put down those little corners of film in hard to access areas.
The EZ Reach Ultra gold version has a flex–firm rating that works wonders, while the platinum version offers a hard card texture with internal lubrication technology that helps prevent point–of–contact scratching.
Either way, it's easy to see why EZ Reach Ultra is the ultimate.
---
We Also Recommend
---