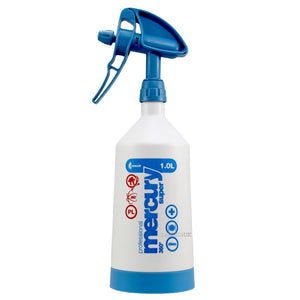 Mercury Pro Spray Bottle
A superior, tough trigger spray with unique double action - sprays on both the "in" and the "out" to create a constant spray.
Features include
Adjustable conical spray tip.
Visible fluid level.
Stable base and chemical resistant.
Viton seals.
From the manufacturer:-
Professional sprayer based on our exclusive multi-purpose, double-action trigger sprayer. It not only sprays when the trigger is pressed but also when released! The sprayer is designed specifically for cleaning professionals and manual car washes for cleaning mirrors, windows, upholstery, vehicle windshields and windows. The professional advantage of this sprayer is Viton® seals that provide excellent resistance to aggressive chemicals and detergents.
Cleaning professionals value the Mercury Pro+ sprayers for their convenience and ease of use with double-action trigger saving effort for the cleaning professional. The adjustable nozzle allows for pinpoint spraying to fine misting plus everything between. Made from durable, chemically resistant materials, the sprayer also includes an integrated fluid filter and a translucent bottle with an embossed scale for easy determination of fluid level.
---
We Also Recommend
---