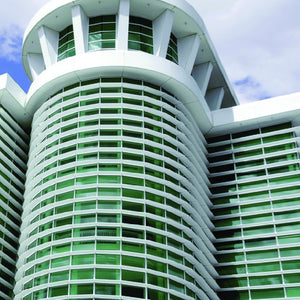 Green External Mirror 20 Window Film - One Way Tint
External Privacy Green Reflective Mirror Window Film.
This External fitting green mirror window film can help reduce heat and glare by up to 80%. It will also give you excellent daytime privacy. This Mirrored film is suitable for all types of flat glass windows. It can be used in the home or office it is the highest quality professional window film. This film is well suited to fitting on advanced glazing types, like double glazed, gas filled, it will reduce risks such as thermal shock, where internal mirrored window film, strains glass integrity because there is now way for heat to dissipate. External Mirror is a safe choice when you have limited knowledge of your glazing type.
Our external one-way mirror film is not recommended if you are trying to achieve privacy between internal rooms, unless both rooms have a difference in light ratio, for example, one is darker than the other.
Our Outdoor Mirror green privacy window film works by reflecting whichever side is brightest. Meaning it is fantastic for external facing glazing where the sunlight is brighter than the artificial light. Once fitted, it is entirely resistant to moisture and condensation, so a great choice for both bathrooms and kitchens. It is also very durable and easy to clean. The One Way External Window Foil is easily installed by using soapy water and a few basic household tools. Easy to cut & trim to size. Reduces Solar Heat Gives excellent one-way vision during the day.
Green Mirror External Window film, is ideal for, glass staircases, offices, bathrooms, shower screens, vehicles, balconies, residential and commercial applications and many other uses. The External glass Foil / Film is fitted by using soapy water and a few basic household tools, these tools can also be purchased directly from us, it's easy to cut & trim to size. Reduces Solar Heat and gives excellent one-way vision during the day. Another benefit of External Reflective Green Window Film is its ability to reduce 98% of UV light (the main cause of fading).
When used as a source of Privacy, outside green one-way mirror window film will work in the following method; the side with the most light will be mirrored in appearance and the side with the least light will allow a one-way viewing experience, the ability to see through the glass.
If the Reflective External Green Mirror Window film is used to reduce Glare or Excessive Solar heat, the Mirrored Green film can reduce heat transmitted through the glass by as much as 80%, this can make an enormous difference to the usability of glass rooms and conservatories during summer, the Green Reflective Window Film is a great way to upgrade your glazing, covering your windows with this product is a great alternative, to old-fashioned net curtains/blinds.
External Mirror Green One Way Film, is designed to be permanent so will be very durable long term and is easy to maintain and clean, should you decide to remove the product, it can be removed, with either a steamer or scrapper.
Professional quality - as used by professional window film fitting companies

Non-Fade, Easy DIY install

Self Adhesive Film

Easy to cut & trim to size

Allows natural light through the film

Mirror Green Window Film, companies in a handy roll.
---
We Also Recommend
---