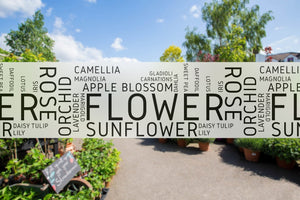 G17 - Florist banner frosted window privacy partition - screening window partition decal.
Designed to go on glass for added privacy or just to advertise your business. It is ideal for a florist.
The design is printed directly on plain frosted window film for external application on glass for the text to be read externally. The banner is available in any width or length, simply add the dimensions on the right.
The pattern will tile continuously we recommend a minimum width 'left to right of glass' of 50cm and a minimum height 'top to bottom of glass' of 50cm . As it's a banner it doesn't not need to be fitted to the entire top and bottom of the glass, it looks great even if it is only applied to a half or a third of the glass height and can be positioned on the glass anywhere you desire.
If you are planning to apply this film on several panes left to right, just order the overall length in total to cover all your panels. You'll then be able to cut the film to the desired lengths with scissors, this product is a very easy DIY install and instructions are included.
Please note:- any custom made banners are non-returnable as they are custom cut for you personally and could not be resold, please bear this in mind when making a decision, if in doubt we encourage you to have a proof sent out prior to the item being printed and cut