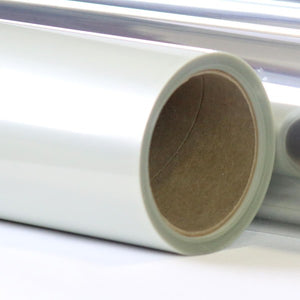 Clear 100% Transparent Printable, Optically Clear, Full Clarity Printable Vinyl
Clear 100% Transparent Printable, Optically Clear, Full Clarity Printable Vinyl
The highest available transparency, perfectly clear gloss printable vinyl. For superior printing of sothitcaded details, with the very best clarity.
This film is a PVC composite, clear printable vinyl. This is the highest quality printable vinyl available, 100 microns thick, with the most beautiful optical clarity. Suitable for latex, solvent, eco-solvent and uv printing.
Rolls are up to 30m, the vinyl is self-adhesive and its glue is protected by a frosted removable release liner, the film is both print and plotter cuttable.
This printable window vinyl is perfect for making window graphics, its suitable for all glass types and has a 5 year warranty. A thick quality product, with class leading clarity, for easy install beautiful results.
---
We Also Recommend
---