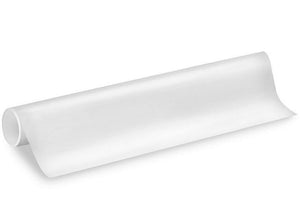 Bubble Free Printable Frosted Privacy Glass Film
Suitable for all printers eg. latex, solvent, eco-solvent and uv printing.
This Printable frosted-glass effect window film is fully customisable by printing any image onto it, its perfect for Privacy or decoration on bathroom, kitchen, bedroom and patio door/entrance door windows etc. As well as being stylish it'll keep outsiders looking into your window and will also obscure any unsightly buildings/traffic etc that may be visible from your windows
This is an The Window Film Shop Exclusive film, designed for the DIY market, this printable vinyl based product comes backed on a paper line, making it easier to cut with household scissors. Its easier to remove from the liner and a much easier fit. As with all our window films its a wet install and can be easily fitted with a few household items, such as a knife, squeegee and spray bottle. Its patterned design, allows air to escape more easily, after install its curing time is quicker, when dry no bubbles will be present. This film is also great for the sign maker industry as it can be fed into a plotter to cut an array of designs.
This is the same window film as used by professionals in homes and offices around the country. The film, once fitted is totally resistant to moisture and condensation. It is also very durable and easy to clean. Easily fitted by using soapy water Easy to cut & trim to size Allows over 80% of natural light through the film Larger widths & quantities also available. Please email for quote.
Full fitting instructions supplied with your order.
---
We Also Recommend
---