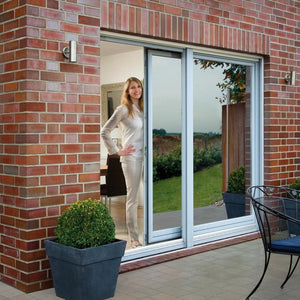 Mirror Silver 30% - Medium Reflection Silver Mirror Window Film
Mirror silver 30 is a medium reflective silver window film, still offering reduction in heat and glare, Mirror silver 30 will offer clearer view out of your window compared to our other mirror window films. It has a softer lighter silver tint finish; you can still achieve the one way effect vision if you have the correct lighting.
It will help reduce heat buildup and glare by up to 70%, making rooms in your home or workspace much cooler, comfortable and enjoyable to be in. It also helps lower the amount of UV light coming through the glass by 99%, diminishing the effects of fading.
Once our medium reflective silver mirror window film is applied, it will give you daytime privacy as it gives a mirrored finish on the external facing side of the glass, keep in mind this film needs a much stronger light than other mirror films as it has a fainter tint.
Our silver mirror medium reflective solar control window film works by mirroring whichever side of the glass has the most light on it. It reflects sunlight and thus will reduce solar heat. Once fitted it will be unaffected by moisture and condensation so can be used for both kitchens and bathrooms with no issues arising. It is a very durable and long lasting film; it is very easy to clean.
Our 30% silver mirror window film can be easily DIY installed, all our window films are self-adhesive so no messy glue is needed and will come with full written instructions.
Available in different widths and lengths

Reduces ultraviolet light by 99%

Reduces glare by 64%

Rejects 68% of solar energy

VLT of 44%

Perfect for solar/glare reduction.
Click here to check out the rest of our mirror window film collection
Click here to check out our window film fitting tools
---
We Also Recommend
---