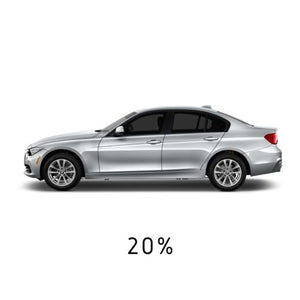 20% Budget Dark Car Window Tint Limo Black Smoke Automotive Vehicle Tint Roll
Sold directly from the roll, so you can DIY install, instructions are included with your order. Simply chose a width and shade from above. Easy to install with a few basic tools.
Budget Dark Tint, Dyed Glue Black, 1 Year Warranty.
A Very Cheap, but High Quality Car Tint, Sold in Full Whole Rolls of 30.5m Lengths, in Widths of 76cm and 152cm. Cheapest price Eu Import Quality, Automotive / Car tint we sell. A professional quality product for a bargain cost, far superior to all other cheap alternatives. We offer a full money back guarantee, that like for like you will not find a better product cheaper. Has a standard 1 Year warranty, Uv stable, fade and scratch resistant.
At Active Films we exclusive deal with and supply window film, so our products are the industry standard and only sourced, from reputable manufacturers within this specialised industry. Our four tint ranges of auto car tints includes:- Budget Dyed Glue 5%, 20% ,35%
Here you are purchasing the Budget dyed glue, great for aesthetics and easy to heat shrink as it's very thin. The dyed glue used gives a smoke finish and is UV stable.
---
We Also Recommend
---