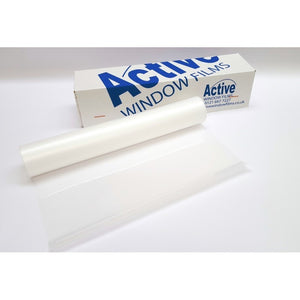 150 Micron Frosted, Safety and Security Window Film
Frosted & Safety Combined Window Film/ Glass Protection / Sticky Back Plastic/ 150 Microns Thick

This 150 Micron Dual Laminate Window Film offers both privacy and safety. It's a combination of two of our best selling products laminated back to back: white frost and 100 micron safety. The result is a twin purpose film, that only requires one installation and has the benefits of both products, saving time and effort during installation. This film can be applied to any flat glass surface to increase the structural integrity and security of your home, office and business premises
The Frosted Safety security film creates a 'safety net' which holds shards of glass in place upon impact. This makes it safer for occupants and reduces the risk of vandalism and burglaries.
This film is an inexpensive way to upgrade any window and is used worldwide in banks and offices. The film is easy to install, and can be cut to any shape or size. It has been tested and certified to buildings regulations EN12600 (2B2). Also known as Frosted Glass Protection / White Frost Glass protection window film / Anti Shatter frosted window film.
This window film, is sold per metre in variety of sizes. It can be installed with a few basic tools, which we offer for online purchase. This is an easy DIY product that can hugely upgrade your glass, making it safer and more energy efficient.
Window Film Fitting Instructions, Technical specifications and glazing suitability chart is available to download at the bottom of the page
---